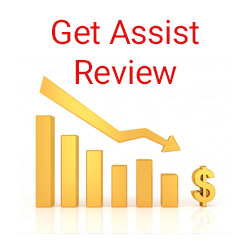 GetAssist Review – How GetAssist marketing quickly turned into Get A Cyst.
My experience with Get Assist had almost became a nightmare if it wasn't for a detailed letter that I've sent to CEO. Here is a story how they almost stole my hard earned $500.00
I'm a web-developer, my tiny company has been around for over 15 years and we have built our business on reputation, responsibility and accountability. If we see injustice, we fight it.
On June 26, 2019 – I've decided to test out Craigslist as a marketing strategy, and GetAssist has contacted me stating that they have website orders that they need help with because their agency is not able to handle all of the website requests, and they really need to outsource. I was looking to see if I can scale my company and I agreed to help. They transferred me to the manger. That works out of Vaughan office Ontario.
Manager further elaborated that they have way too many website orders and they would be happy to work with company like mine to fulfill them. He explained that they have huge company that is expanding massively and they really need more developers to help them grow. When I asked how much it would cost – $500.00 / year and I'll be overbooked with work. When I asked him what if I don't like this service could I get a refund and Tim had agreed. He further told me that he'll send me an email that he'll refund me 100% no questions asked if I don't like the service.
Get Assist reviews on google didn't look that good. What was rather odd is that there seemed to be a pattern of several good reviews after each bad review. When I cross checked some accounts that posted good reviews it seemed that some of the accounts have posted multiple good reviews across other Get Assist offices. This was alarming but since I was promised 100% refund, I had nothing to lose.
For some odd reason however the promised email that they'll refund me if I don't like their service never came to my email. Red Flag.
I paid $500 and they set-up an account for me. The very first day I got a ton of leads from "TEST" source. Turned out that they have this test account that constantly sends out test messages to every new signup. I later discovered that they use that as a method to say that you haven't followed up with so many leads so It's your problem that you are not generating sales when really all of those leads come from a fake testing server. I called in support and re-configured account to turn off the test lead source.
On August 09, 2019 there was only one lead that I could actually have a conversation and that responded. In total, over this time there were 9 leads and 7 out of 9 leads had "FREE" as a price the lead was planning to pay for the service. One of the 2 remaining genuine leads was sales office that was looking to establish mass "Partnerships" to get orders from other web development companies for clients who are looking for marketing services. That only leaves one true quality lead in 2 months. I later found out that "Free" seems to be the price that I had to pay in order to contact leads. Not exactly sure what that meant.
After evaluating my results and rather negative ROI of $500.00 I've decided to claim my refund. I contacted office to speak to the manager, but couldn't reach him. Sales reps told me that he was away, or busy, or had a meeting. Ok. Get Assist was not helpful! I've decided to take a different approach.
On July 31 I've created a ticket 37363 asking for a refund. I've received a reply that this is a tech support and they won't help me with request. Ok. Maybe I've created a wrong GetAssist request? Back to calling.
August 7th, I was determined to get a hold of a manager and speak to him directly. Same story, he was away or on another line, so I asked one of the GetAssist representatives to set up an appointment with that specific manager. They meandered around but eventually agreed and we set-up a phone call appointment for 4 pm. Finally!!! I'm waiting for 4pm. No one calls. 4:10pm and I decided to call myself. Reached another sales rep and asked why my manager didn't call me back. He responded that he thought that I'd come into the office. No! I explained, we agreed to set a phone-call and since he had allocated time to speak to me I'd like to speak to him. I further informed sales rep that I've set my work aside and have allocated 30 minutes out of my busy schedule to speak to the manager we aught to respect each other's time. Sales rep promised that manager will call me. Ok.
Waiting and waiting, no one calls back. So, I decided to call them back again. This time another manager picked up the phone! But it's not the same manager! It was office administrator apparently. He confirmed that that original manager works in the office and that he not take my call. If I want to get a refund, I will need to call head-office and speak to customer support. He further told me that I've called their office 5 times and that I should stop doing that and stop harassing their workers. Now that was upsetting because I was completely professional and did not harass anyone. Calling 5 times in a day trying to speak to the person who promised to be your sales rep and a point of contact and who promised a refund does not constitute to harassment. In turn claiming that I've been harassing their office and that I should stop calling them to claim my money that would constitute to harassment.
By this time, I was upset and I started writing reviews and pasting them to multiple GetAssist offices throughout the town. I've also created a You-Tube video showcasing the issues that I have with claiming the refund that I was promised.
My next step was to contact head office and speak to customer rep. I've been calling countless times and no one was able to pick up the phone. I created another ticket online and finally had someone from customer service reach out to me. I explained to her the situation related to that I was promised a refund. She asked if I could forward her an email that would show that the manager had promised me a refund and I couldn't because he never did send me an email. She stated "ok so no proof of refund promise". She told me that she'll investigate this issue and try to get in touch with the manager.
On August 8th, she sent me a standard template-based response that talks about how I didn't follow-up with all of the requests and that their policy doesn't allow for a refund. Case closed.
No case is not closed. I took it a step further and found contact info of CEO of the company and have sent this review to him. Suddenly things started to get traction. He assigned a rep to process my refund immediately. Within half an hour I've received a phone-call apologizing for this experience and they have issued me a refund. CEO further followed up with another email stating that this is not how their office normally operates.
So the story did have a good ending, but it came at massive loss of work time and emotional turmoil.
If you decide to use their services I'd highly recommend to make sure to ask for a 100% refund letter before you pay them any money. Don't believe them that they'll send you a refund statement to your email because chances are that you'll never be able to call back that same person who originally promised new terms of service.
One item that I'd like you to note is that they have multiple offices which helps them to re-distribute reviews (bad reviews) across multiple locations thus minimizing impact of negative reviews on head office. Also note that their Facebook page doesn't have an option to leave a review.
I hope this GetAssist review will be helpful and will save your time and money.